MineralStream™ Chakra
Regular price

$86.99

Sale price

$48.99
Enjoy a luxurious Spa Experience with our MineralStream™ Chakra !
Free Shipping
30-day Money back guarantee
Energizing Experience: Harness the power of genuine Amethyst, Rose Quartz, and Jade stones believed to promote positive energy and balance.
2x Increased Water Pressure: Ensure an invigorating wash every time.
Natural Gemstone Power: Embedded with genuine stones to rejuvenate both body and spirit.
Advanced Filtration: Removes water impurities for healthier hair and skin.
Transformative Ritual: Elevate your daily shower from a mere routine to a therapeutic experience.
Step into a shower that does more than clean - it revitalizes.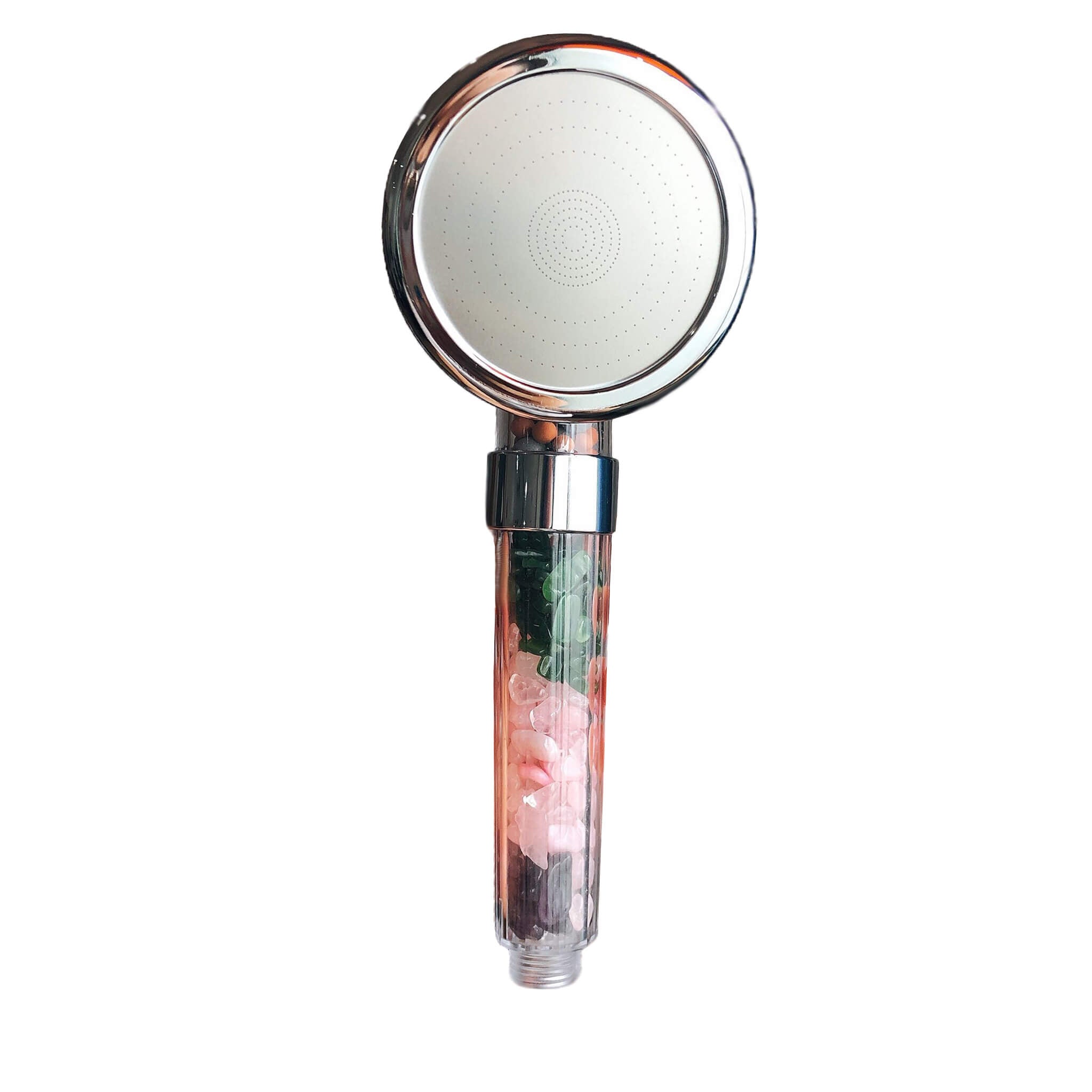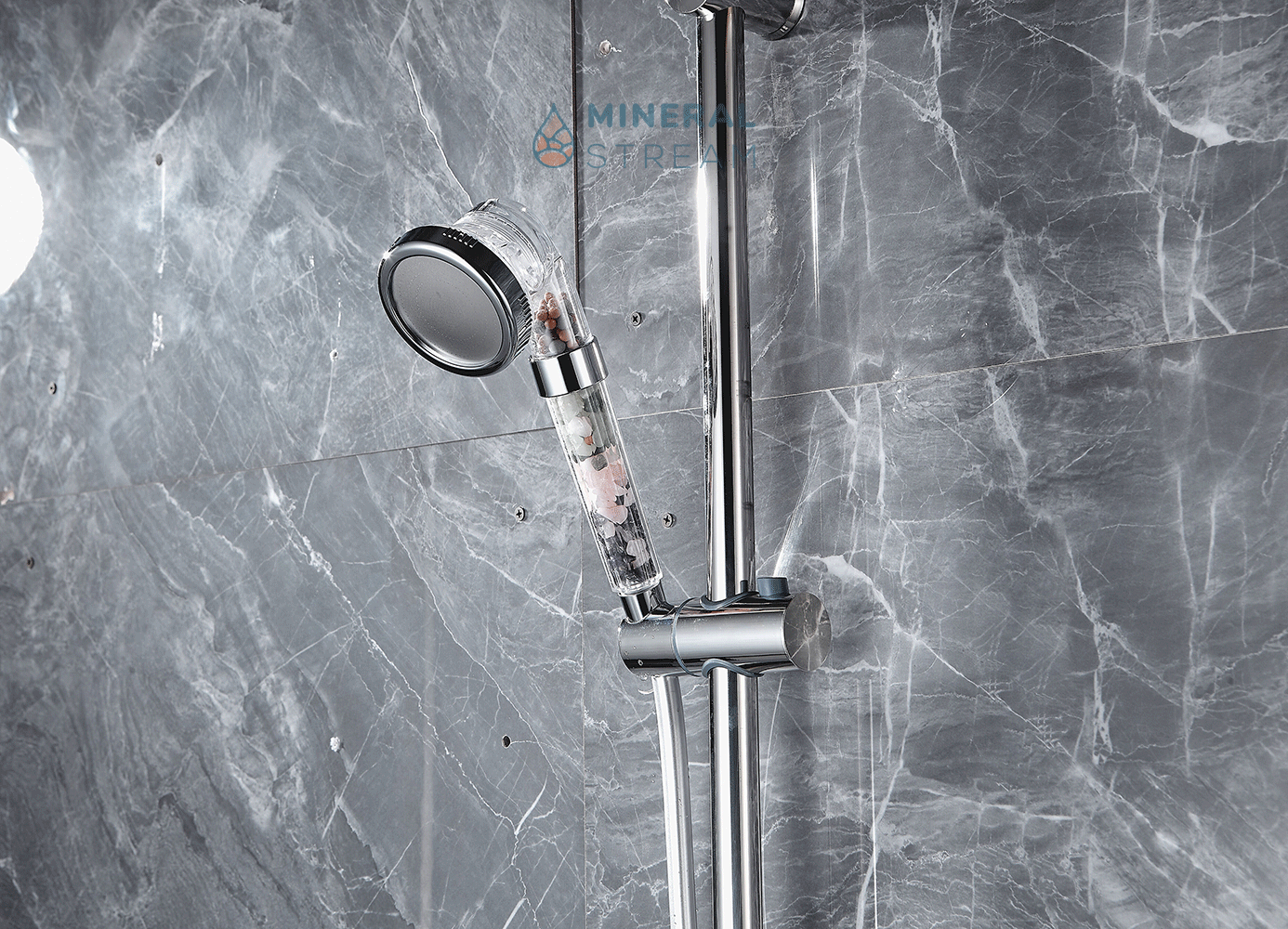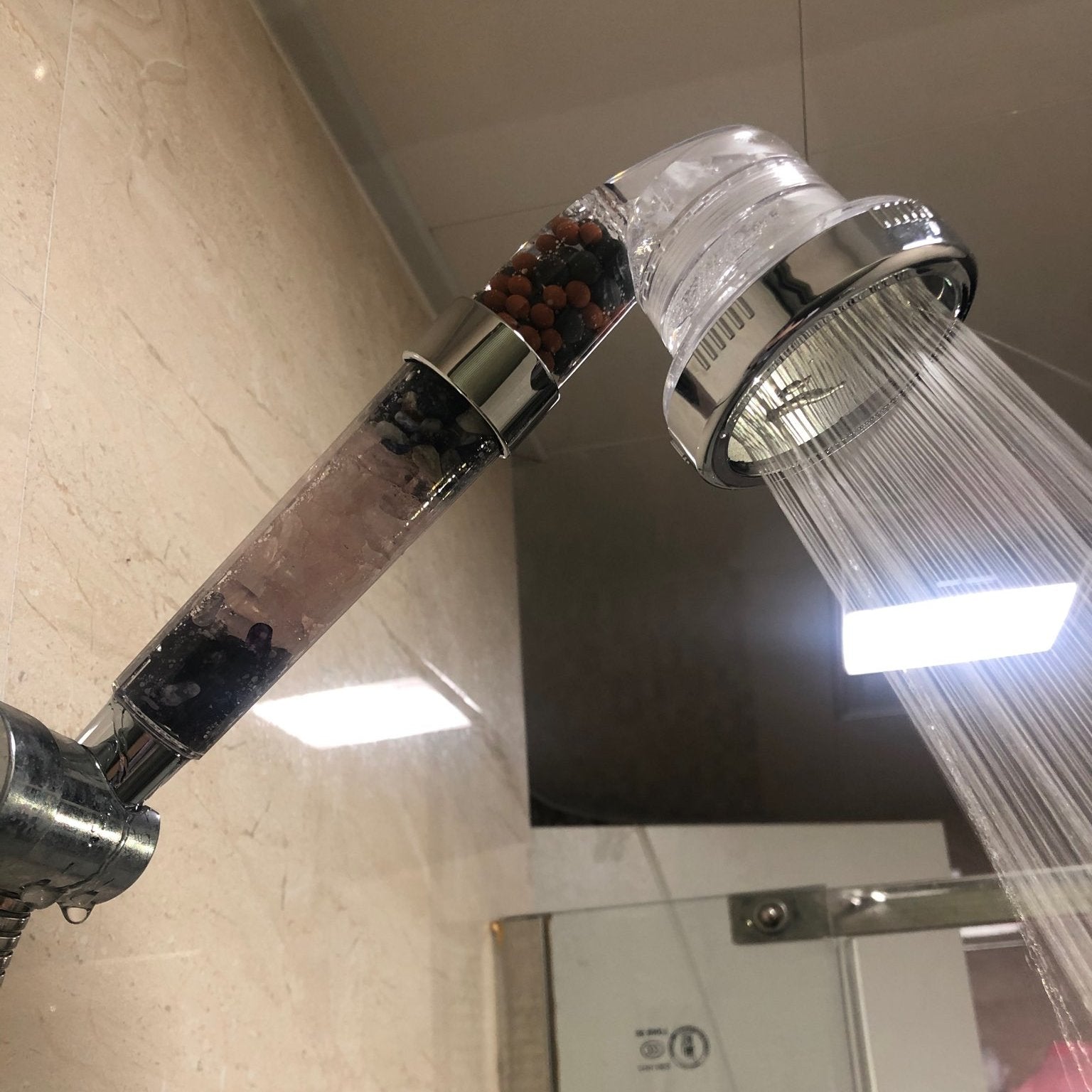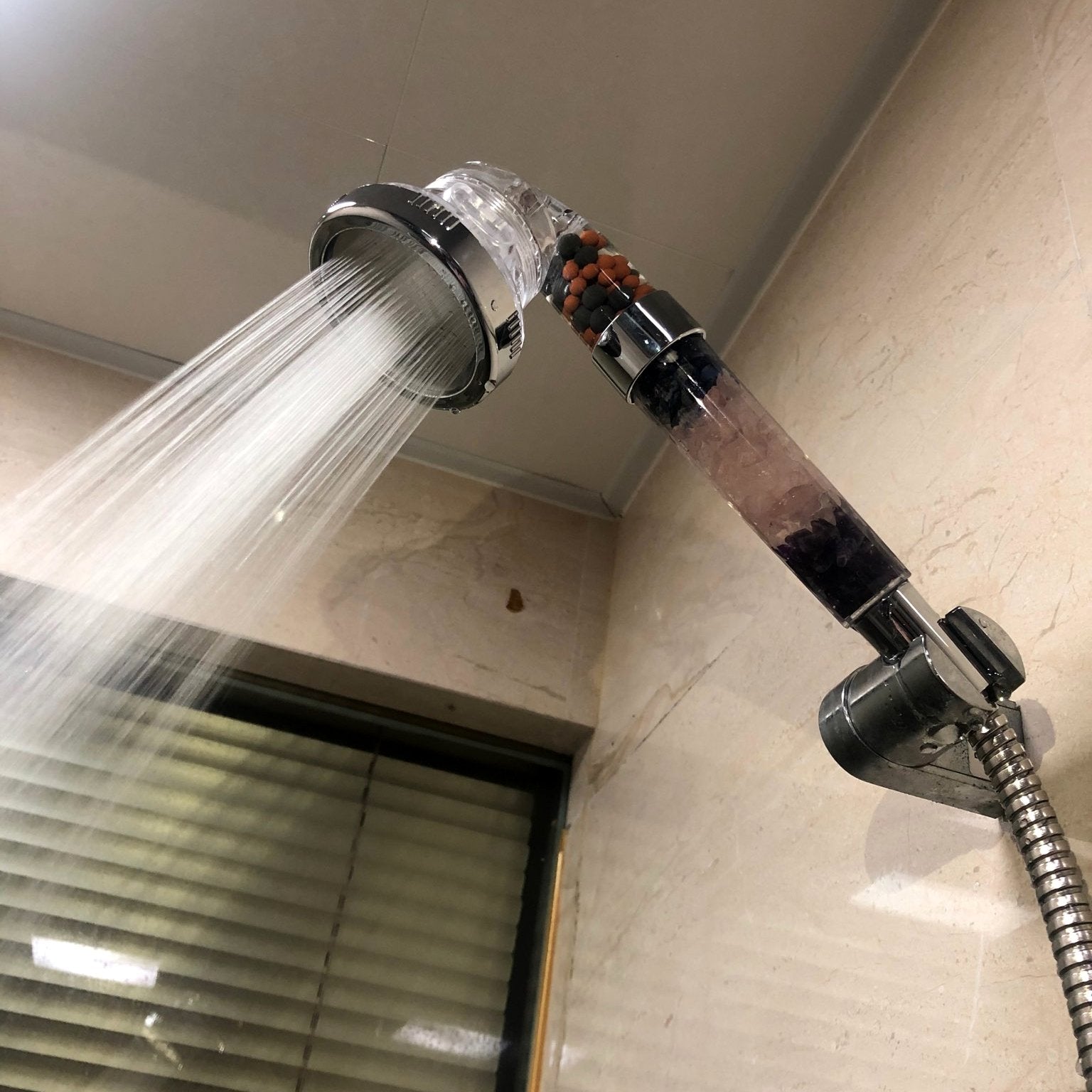 Only The Finest Stones Make It To The Chakra Shower
The Chakra Shower Head contains 3 different types of crystals, each filled with their own healing abilities for the mind, body and soul. They're thought to promote the flow of good energy and help rid the body and mind of negative energy for physical and emotional benefits.
Rose Quartz

Rose quartz is the stone of unconditional love and peace. Renowned for its calming and balancing properties, it infuses your shower with positive energy. Its gentle vibrations create an atmosphere of tranquility, promoting emotional healing and leaving your skin feeling nourished and refreshed

Amethyst

Amethyst is known to reduce stress and promote emotional balance. With its relaxing energy, it can aid in mindfulness and grounding practices. It is also known to soothe inflamed and irritated skin. Amethyst serves as a natural sleep aid, supporting restful sleep and encouraging vivid dreams

Green Jade

Green jade soothes the mind and dismisses negative thoughts. Rich in minerals, this cherished gemstone also helps enhance skin elasticity, promoting a firmer and more toned appearance. Its cooling effect reduces puffiness and soothes inflammation, making it a go-to solution for calming sensitive or irritated skin
Chakra vs. Your Old Shower?
Positive vibes and higher water pressure is what we all need. Our skin soaks up the chemical filled water that we shower in, so it is just as important to filter as our drinking water. As the water goes through the shower head, the ionizing beads filter the water and the crystals charge it, providing you with gemstone therapy from the crystals, clean water for your body to absorb, and aligment of your chakras.
Chakra™ Shower head

✅ Rose quartz, amethyst, and jade stones for gemstone therapy

✅ Up to 2x increased water pressure 

✅ Filters chemicals and impurities, softens hard water

✅ Reduces water usage by 30%

✅ 3 shower modes for a spa-like experience

Other Shower Heads

❌ Cannot filter harmful chemicals or soften hard water 

❌ Damages the pH balance of skin and hair

❌ Low water pressure and only one spray mode

❌ Wastes 60% of the shower water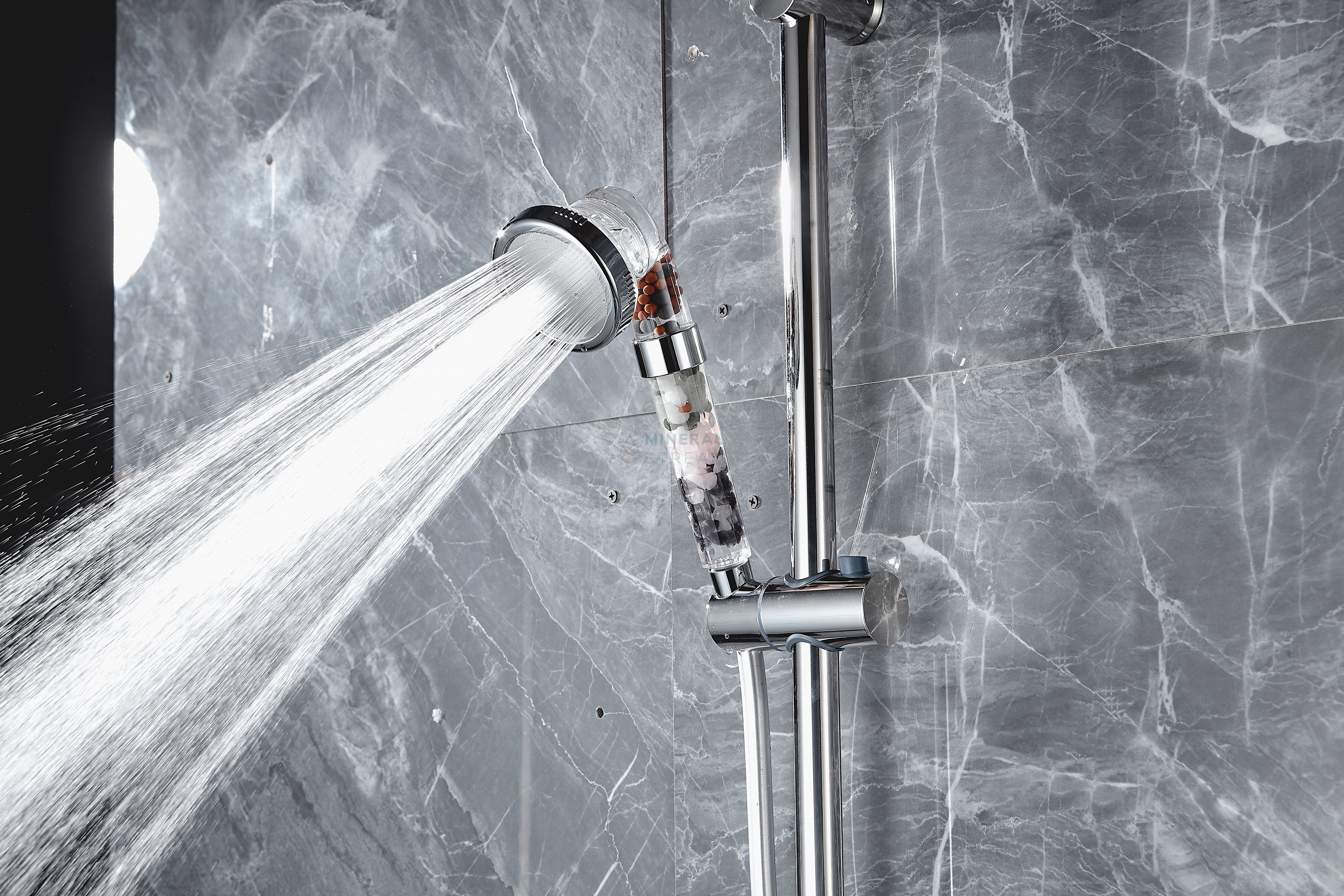 Most Powerful Shower Experience With The Least Amount of Water
The MineralStream™ Chakra Shower Head increases water pressure by 200% while reducing water consumption by 30%. Yes, you read it right! Our innovative shower plate features 250 laser-cut holes that push out a small amount of water at great velocity. Thus, you can enjoy powerful yet gentle showers while saving on utility bills!
Plus, it's built to last and suitable even for kids, pets, and the elderly – that's how soothing it feels on the skin!
Shop Now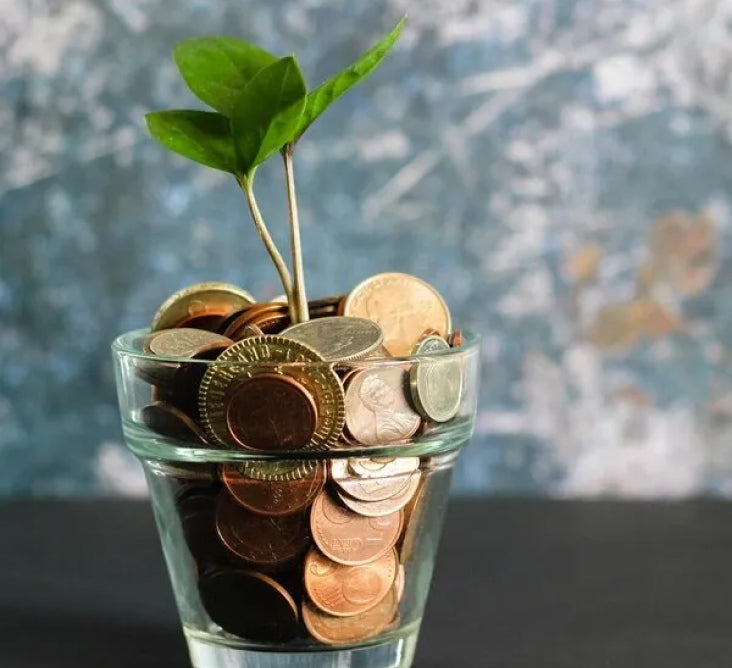 The Future of Sustainable Showers
Thanks to the high quality laser-cut holes technology of the Chakra Shower Head, it is now easier than ever to be sustainable and conserve water at home.
By reducing water consumption by 30%, the Chakra Shower Head saves more than $250 a year in water and energy costs.
Replacing your ordinary shower head with an eco-friendly one makes a difference! If everyone in the world had a Mineral Stream Chakra Shower Head, we could save 130 to 150 billion liters (approx. 39.6 billion gallons) of water every year.
Shop Now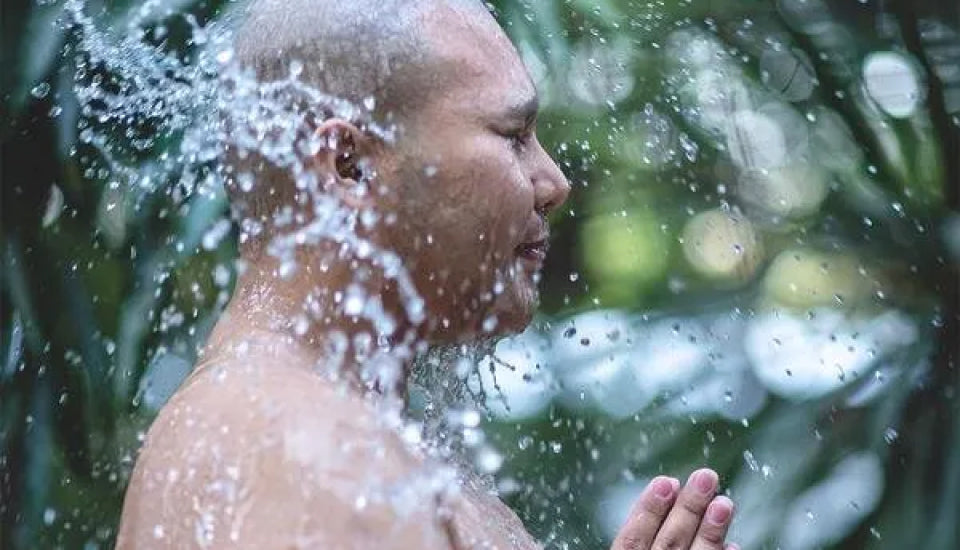 Enjoy Spa-Like Showers that Actually Save Water and Energy
The Mineral Stream Chakra Shower Head is perfect for anyone who prioritizes sustainability, but also believes in the power of a good shower!
Experience spa-like gemstone therapy at home, whenever you desire, courtesy of the Chakra Shower Head. Rest assured that its ingenious technology will efficiently manage your water and energy consumption, making every shower a rewarding experience for both you and the environment.
FAQs
Can't Find Questions? Call Us +1 (866) 819-4959 or Email Us support@mineralstream.co
What is the Chakra Showerhead on Mineralstream?

Use this text to answer questions in as much detail as possible for your customers.
How does the Chakra Showerhead work?

The Chakra Showerhead is equipped with mineral stones that infuse the shower water with positive energy. These minerals are believed to have properties that align and balance your body's energy centers, or chakras. As water flows through the showerhead, it gets enriched with these minerals, offering a refreshing and revitalizing experience.
How often should I replace the Mineral stones & Crystals?

We recommend changing the stones every 4-6 months, depending on how harsh your water is in your area. You can get the replacement stones from www.mineralstream.co
How do I clean the showerhead?

Simply unscrew the showerhead and remove the mineral stones from the compartment. Rinse the stones and the inside of the showerhead with warm water. Do not use harsh chemicals or abrasive materials, as this might damage the unit or affect the mineral composition.
What is the difference between this Showerhead and other similar showerheads sold online?

The Original Mineral Stream is designed to last and filters the water in a soothing way. In addition, the water pressure of the green shower is twice as powerful as that of standard shower heads.
Does the connection of the Mineral Stream shower head fit every household?

Yes, Mineral Stream has a standard connection just like other shower heads. This means that the shower head fits perfectly in 95% of households. So you don't have to worry about installation problems. If you still have doubts, we offer a shower hose that fits.
Can I really save money using a MineralStream shower head?

All of our showerheads are designed to increase the pressure of the water while actually reducing the amount of water you use in your showers. Less water consumed translates to less hot water consumed which translates to less gas/electricity bill on heating as well as lesser water usage bill.
Shipping and Delivery

Orders are processed within 24 to 48 hours. Current shipping times range from 2 days to 8 days based on the shipping service you have chosen.
The awesome head 😎
The shower head is amazing, I can feel the difference through the filtered water used with natural soap oh mate unreal 👌
Best showerhead ever! Invest!!
This showerhead is so amazing! I want everyone to have one! I've been recommending it, and letting everyone know! I saw that someone called it 'cheap plastic.' The cheap part is a lie! It's actually quality products and came with refills! I love both the crystal showerhead and mineral one!!
It quit working after less than 3 weeks. I wrote customer service for months and never got any response. Messaged via Instagram, was told to email, which I had already done. I emailed again and still nothing. Had to go to the store to buy a new shower head and out the money.
Cheap Materials.
I was very disappointed in this purchase. It leaked and sprayed in two different spots. The other one I purchased a few years ago, I think from a different company was nicer, but I was ready to upgrade. I ended up having to mix and match the two to create my own shower. This has been my worst IG purchase to date. Sorry to say it. I hate leaving bad reviews but this was very disappointing!
Je n'ai absolument pas vu de différence après plusieurs mois d'utilisations.