Dog Spa Shower Head
Regular price

$69.99

Sale price

$38.99
Free Shipping
30-day Money back guarantee
Introducing the MineralStream™ Dog Spa Handheld Shower Head, your go-to solution for the ultimate dog grooming experience and a convenient dog washing station right at home.
With three rejuvenating settings – Jetting, Rainfall, and Massage – this versatile dog shower attachment ensures a stress-free bath time for your furry friends. The innovative bristle design, now including silicone bristles, gently massages shampoo into your dog's fur, making the process enjoyable for both of you.
Key Features:
✔️ 130 laser-cut holes for high yet soothing water pressure
✔️ 3 spray modes – Jetting, Rainfall, Massage
✔️ ON/OFF button for convenience – pause the flow when lathering up your dog!
✔️ Silicone bristles for a gentle massage during bath time
✔️ Unique design for a non-slip, powerful grip
✔️ Saves water, making dog bathing quicker and easier
✔️ Super easy to install and built to last
Versatile and suitable for all pets, this dog washing station for home is available in Chrome & Black, ensuring a sleek addition to your grooming routine. Make your doggy bath experience even more enjoyable with the MineralStream™ Dog Spa Handheld Shower Head – the perfect blend of functionality and convenience.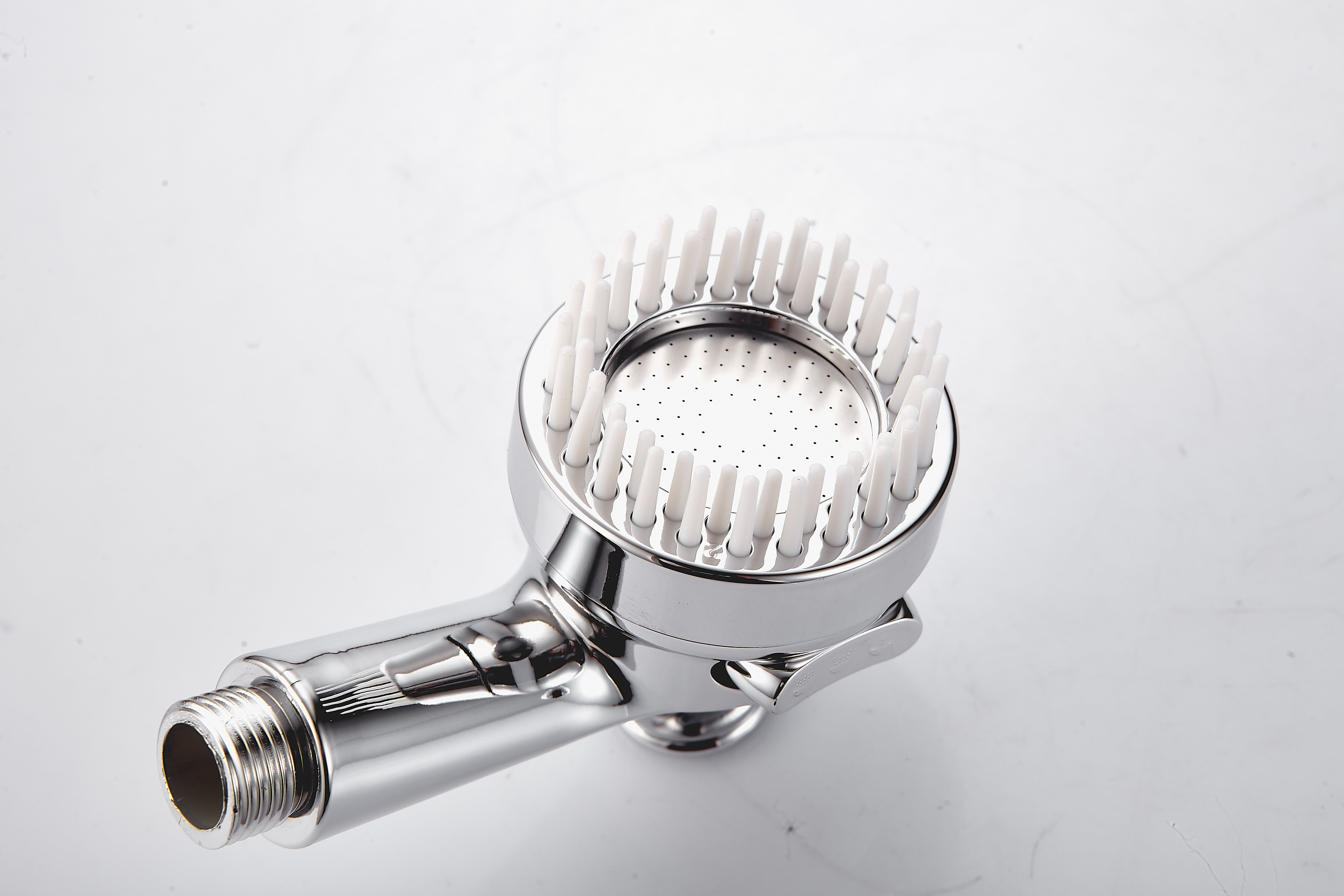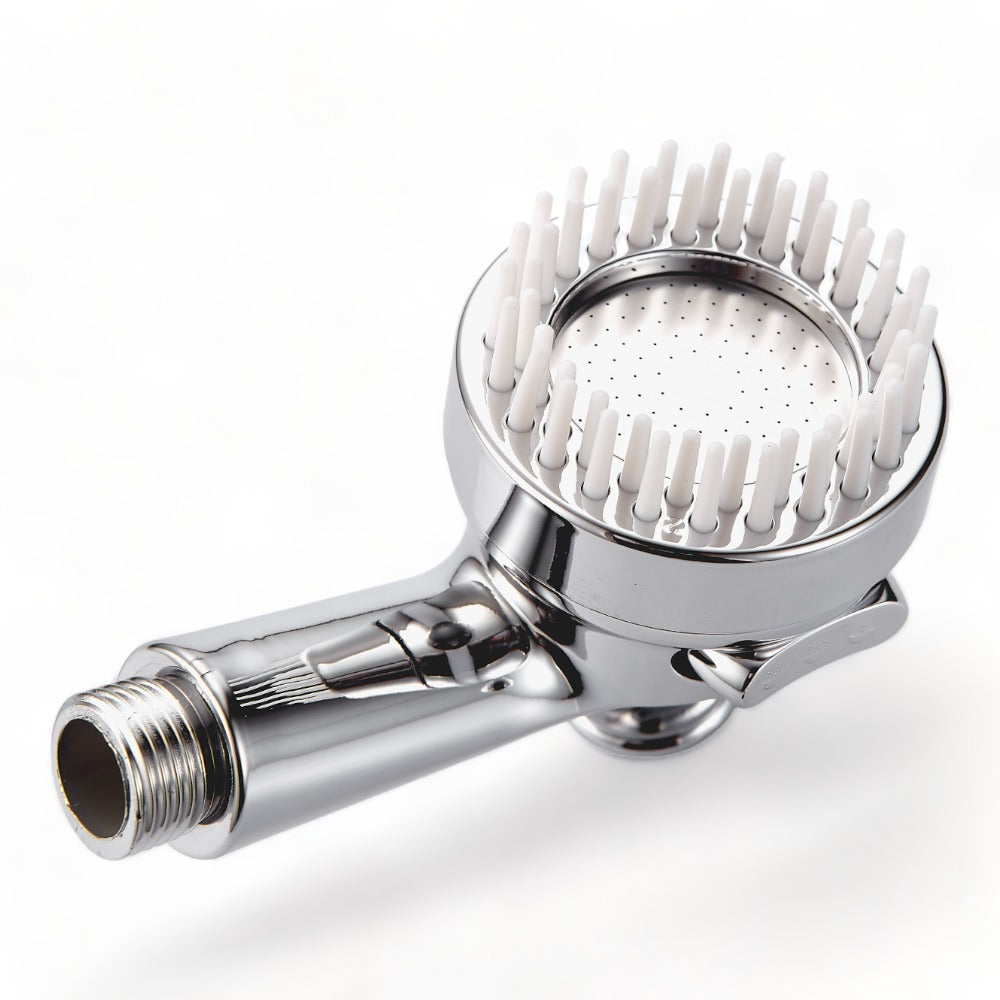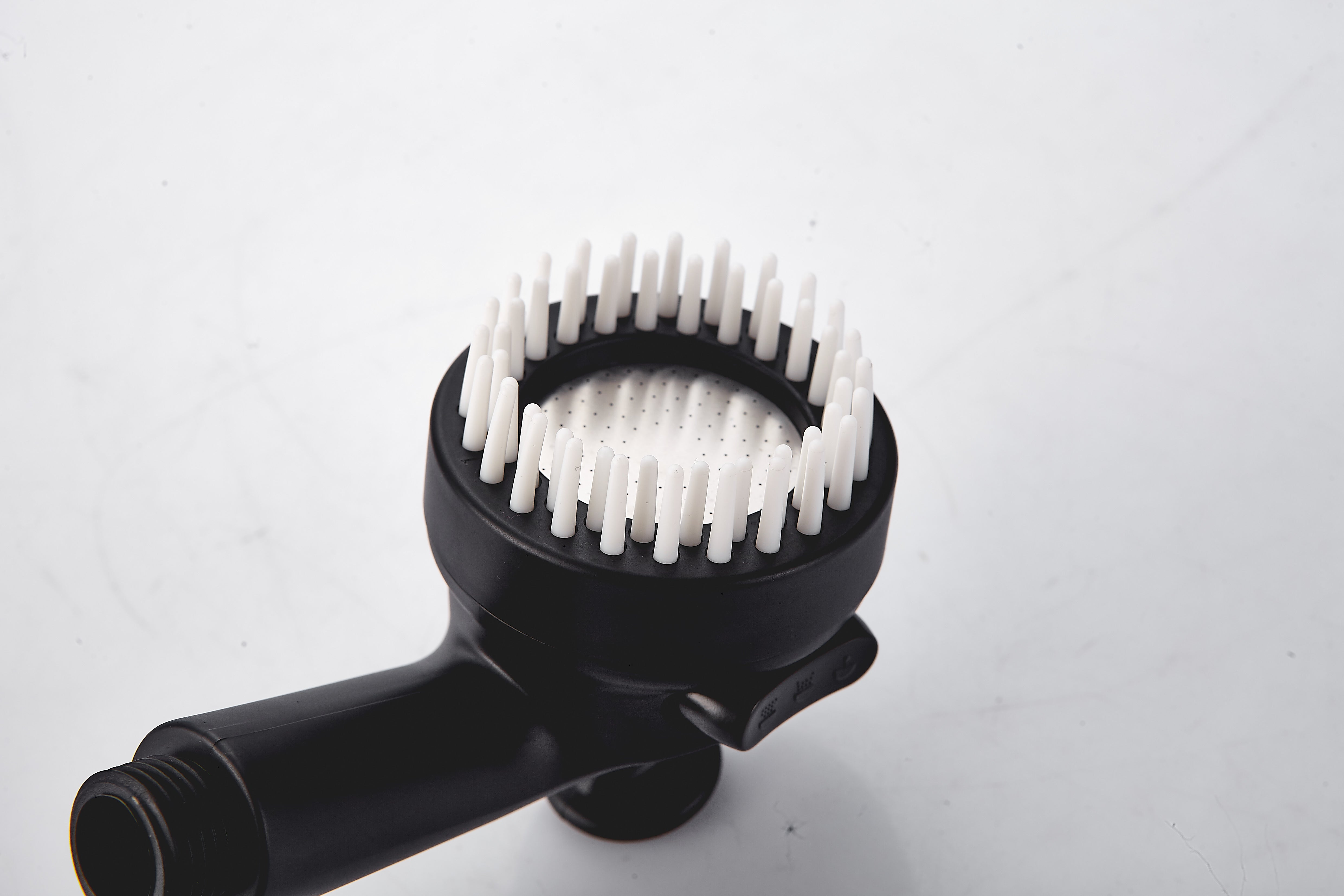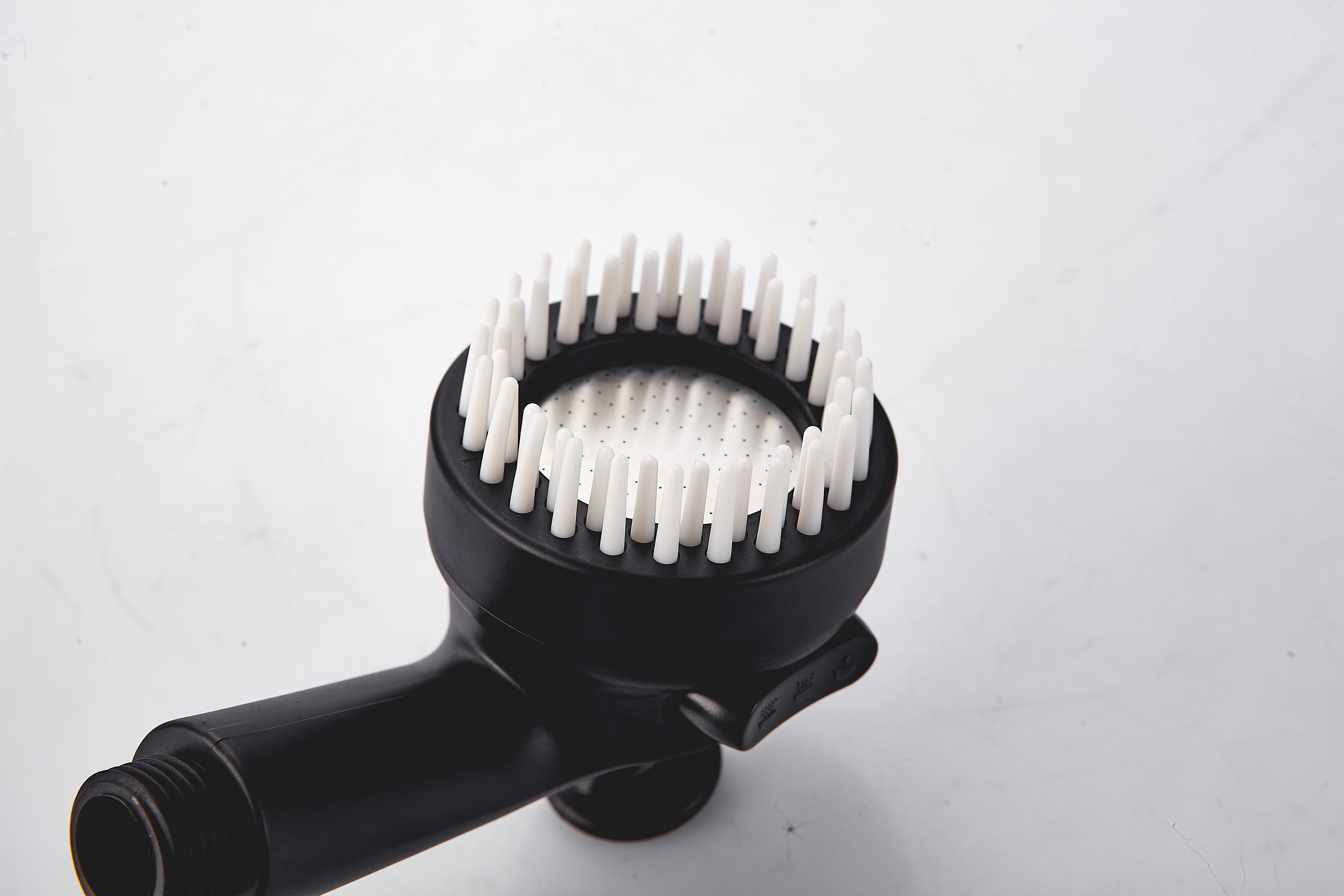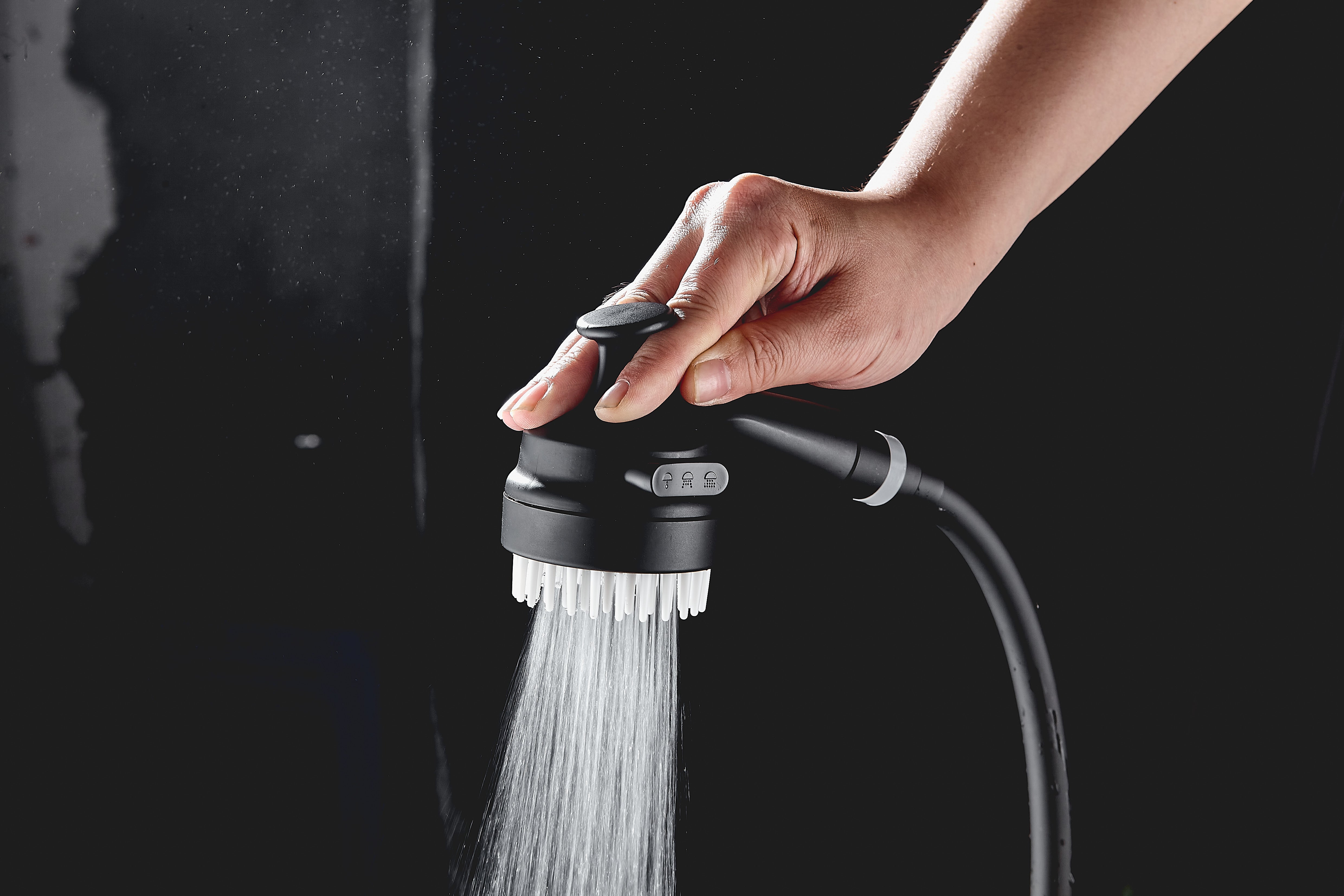 Introducing the new & revolutionary
MineralStream Dog Spa
Better for Your Dogs. Better for the Planet.
More Power. Less Water
Benefits
Customizable Shower Modes

From a gentle Light Pressure Rinse to an invigorating Pressure setting, our showerhead is perfect for those searching for versatile shower solutions.

Enriched Mineral Experience

Infused with natural stone cartridges that last up to 6 months, it's the top choice for homeowners wanting a rejuvenating mineral-infused shower every day.

Effortless Maintenance with Easy Clean Silicone Nozzles

With anti-clog and easy-wipe features, it's ideal for those looking for low maintenance showerheads without compromising on luxury.

Easy Mode Transition

Seamlessly switch between your desired modes by rotating the shower panel. It's user-friendly and perfect for those who value ease of use in their bathroom fixtures.

Exclusive Settings at Your Fingertips

With additional Spray and Two-Hole Spray settings at the back, it's a step above other luxury showerheads in the market.

Eco-Conscious Choice

By utilizing the Eco-Friendly Mode, you not only enjoy a revitalizing shower but also play an active role in water conservation, marrying luxury with environmental responsibility.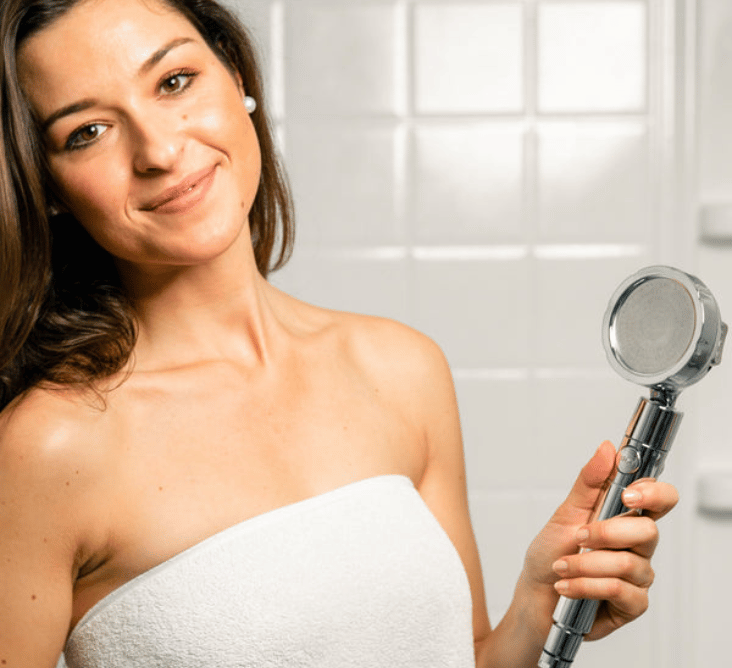 The Future of Sustainable and Spa-Like Showers
The Mineral Stream Showerhead range is perfect for anyone who prioritizes sustainability, but also believes in the power of a good shower! By reducing water consumption by 30%, our Shower Heads save more than $250 a year in water and energy costs.
Replacing your ordinary shower head with an eco-friendly Mineral Stream Shower Head not only elevates your bathing experience but also amplifies your daily contribution to preserving the planet !
FAQs
Can't Find Questions? Call Us +1 (866) 819-4959 Or Email Us support@mineralstream.co
What is the MineralStream Dog Spa Showerhead?

The MineralStream Dog Spa Showerhead is a specially designed shower accessory for dogs that infuses water with minerals purported to improve fur quality and provide a spa-like bathing experience for your pet.
Is the showerhead easy to install?

Yes, the showerhead is designed for easy installation and can be attached to your existing shower hose without the need for professional assistance.
Can I adjust the water pressure?

The MineralStream Dog Spa Showerhead typically comes with adjustable settings to control water pressure, ensuring a comfortable experience for different dog sizes and breeds.
Is the showerhead suitable for all dog breeds?

Absolutely. The showerhead is designed to accommodate dogs of all breeds and sizes, with adjustable settings to suit the individual needs of your pet.
Shipping and Delivery

Orders are processed within 24 to 48 hours. Current shipping times range from 2 days to 8 days based on the shipping service you have chosen.
Perfect Dog Spa!
Bathing my dog has never been easier or more enjoyable thanks to the Dog Spa Shower Head. Its high water pressure and three spray modes ensure a thorough clean, while the silicone bristles allow me to easily lather shampoo into my dog's fur. I also really appreciate the ON/OFF button for convenience. The design additionally prevents any slipping during use, making for a safe and easy bathing experience for my furry friend. Plus, it was super simple to install and the design even allows me to save water. Highly recommend!
Easy to use !
The Dog Spa Shower Head massages while cleaning and offers adjustable water pressure. Installation was a breeze and it even saves me water, highly recommend!
Loving It !!
The design and functionality are top-notch, making bathing pets easier and faster with soothing and adjustable pressure settings. Highly recommend!
Efficient Dog Bathing
Bathing my dog has never been so efficient and easy! I especially love the adjustable modes and gentle silicone bristles. A game changer for sure, worth every cent!
Finally found what I an looking for
I have searched for something like this for a long time. Glad that my search ended here.
Revolutionized Pet Grooming
The MineralStream Dog Spa Shower Head has revolutionized our grooming routine! Convenient, gentle on the fur, and easy to install.